Is there Hope for Frances?

Lady Frances Wrentmore sat back and watched every one of her best friends find love and get married. Was she on the road of becoming a spinster, doomed to live a lonely life, beyond children and without love?

Thrice engaged, Frances had the worst luck with her suitors till a matchless match, an unlikely alliance and a rejected lover forces her circumstance. Will love suddenly find Frances?

Book 4 and the finale in The Hollinger Series. Includes crossover characters from Dare To Love, A Matchless Match and Arrogance & Conceit.
January 13, 2020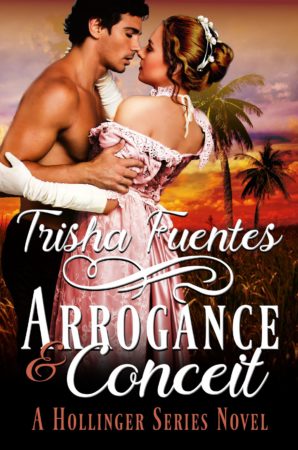 Who is that Mysterious Man staying at Thanet Manor?

John Cassaway was sold as an indentured servant in the Saint Lucy parish on the island of Barbados. Living in a thatched roof hut on the Cotz sugar plantation, he learned to live with African slaves, was kept warm by the arms of an African woman and eventually fell in love with a slave owner's daughter. His life was exhausting, mundane till he caught yellow fever.

There is a surprise in-store for the Duke and Duchess of Norwin.

Book 3 in a series of maritime fiction. Includes crossover characters from Dare To Love, A Matchless Match, and Impropriety.
January 13, 2020
Lady Mary Hollinger is Ready for Marriage

Lord Harland Harper is the wealthy heir to the Earl of Thanet's shipping trade; it would be a match made in Heaven, according to her father, but Mary must first get passed his arrogance. Lord Lucas Wrentmore is the same age as Mary, they have similar interests, they're even childhood friends ~ but she has her doubts as well. Then there is the perfect choice, the Duke of Somerset from the House of Seymour who threw in his hand at the very last moment ~ My, oh my, what is a debutante to do? Mary yearns for the love and passion her parents display daily ~ but which one of those young suitors will fulfill all her dreams? The shipping heir, the childhood friend or the handsome Seymour pedigree?

You might think you know the ending…but think again.
January 13, 2020
Which Path to Follow?

The only daughter of a curator of St. Anne's Church, Miss Hannah Pickering grew up knowing she was going to become a nun until she is introduced to one of her father's parishioners. Tempted by the handsome widower who attends her father's church, Hannah is suddenly forced to make a worrisome decision.

Novella Three in the Service Daughter Series ~ Read all three today!
January 13, 2020